Between the Presbytery and the Choir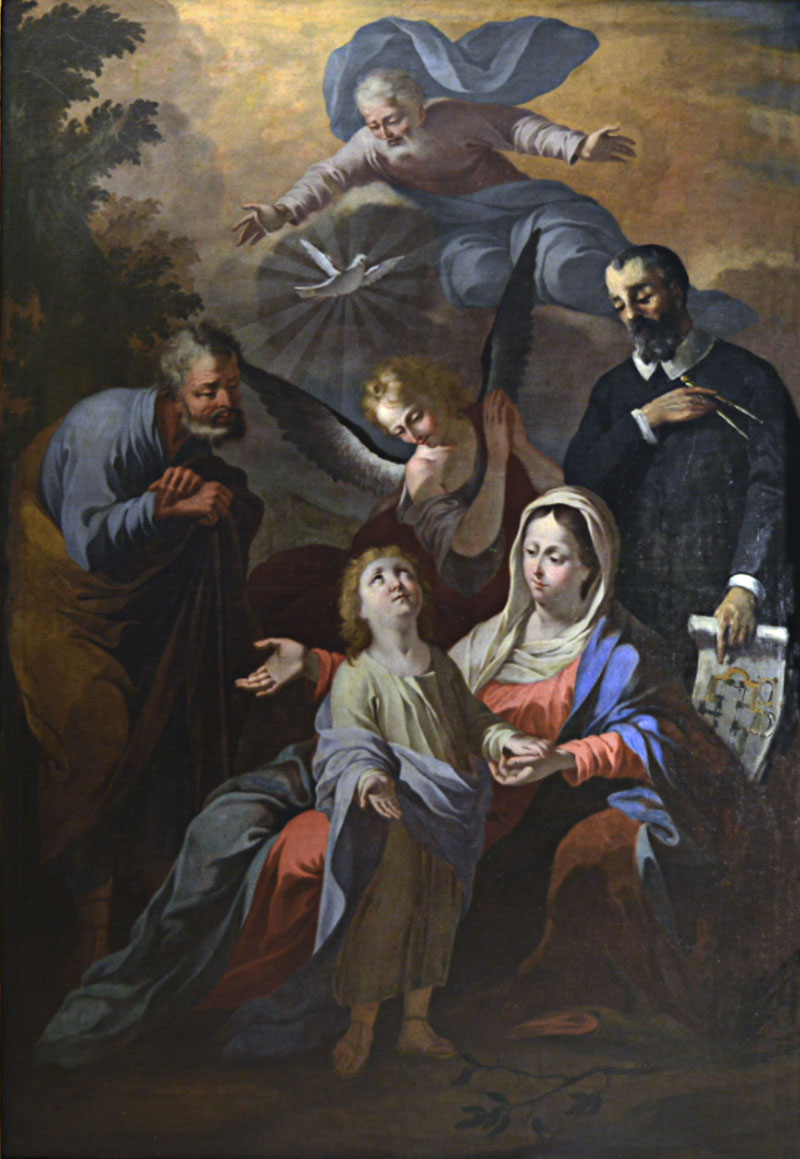 In the right-hand section of the presbytery, against the wall, can be seen a seat made from carved walnut wood, made from pieces of the now-lost 15th-century choir from Alba's abbey of San Francesco d'Assisi, demolished in 1814. The old choir, commissioned by the Franciscan brother Marco da Sommariva, was made in 1429 by a sculptor from Pavia, Urbanino da Surso (c.1380–1461/1463). The bas-reliefs reassembled here (between the backrest and the part below) show the dream of Pope Innocence III, the Nativity with the arrival of the Magi and various saints, mixed in with decorative and symbolic motifs.
---
Above the seat is a large oil painting on canvas, which in the 19th century was positioned on a side altar table, dedicated to Saint Julius and Saint Anna, at the time under the patronage of the Company of Master Builders. Before then it was positioned in the side altar of the Guardian Angel. In the painting, which was replaced by another from 1822, we can see Baby Jesus (or Toniolo?), Saint Joseph, the Virgin Mary, the Guardian Angel, the Eternal Father, the Holy Ghost and Saint Julius. Almost the entire work, in the style of Cherasco painter Sebastiano Taricco (1641-1710), dates to a period between the late 17th and the early 18th century, except for the figure of the patron saint of builders, who seems to be a 19th-century addition to adapt it to the dedication of the aforementioned altar.
---
The antique processional crucifix in painted wood dates from the first decades of the 16th century. By an unknown artist, it is a work of great value, but with subsequent integrations. Two paintings, hung from the side walls on the choir,  date instead from the 17th century, and depict various Saints and Blesseds, including the protectors of the city. The paintings, on canvas, also show the coats of arms of the patrons, Vittorio Nicolino Della Chiesa, the bishop in Alba from 1667 to 1691, and the distinguished Como family.