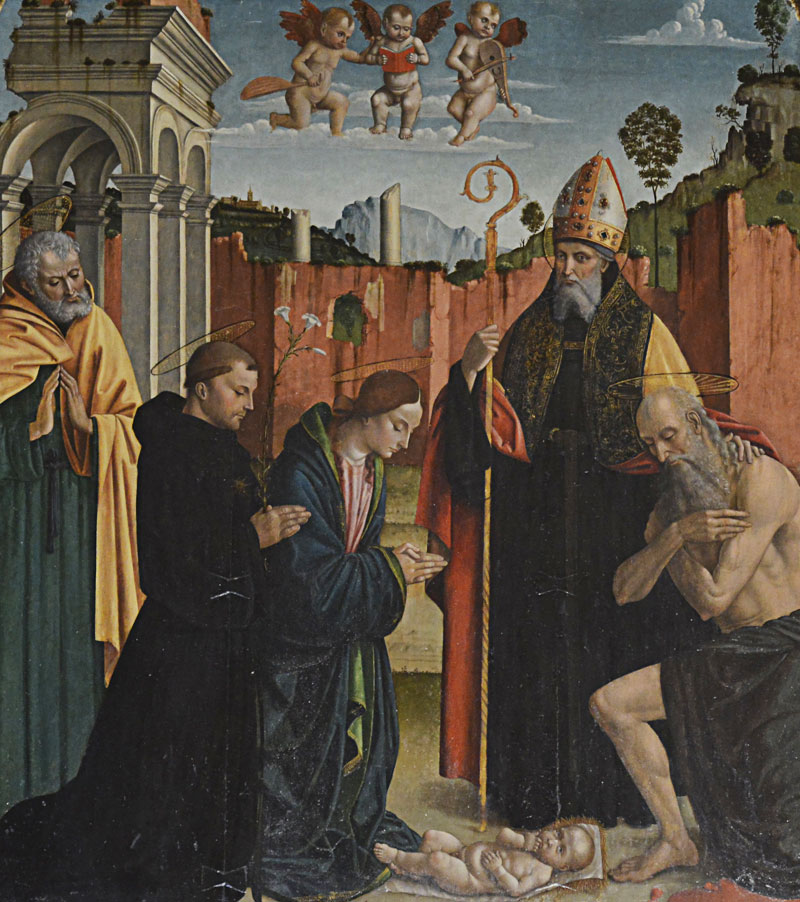 Until the 19th century this side altar was under the patronage of Alba's Cantone family, but by 1872 it had been transferred to the Biglino family. A 16th-century Late-Mannerist-style altarpiece in painted and gilded wood can still be seen on the altar table. It serves as a frame for a large panel, adapted to the space and painted in tempera, signed and dated under the Virgin Mary's mantle with an inscription of doubtful authenticity: "Macrinvs faci.t 1508". This is clearly a work by the celebrated Renaissance artist Macrino d'Alba (active 1495-1513, dead by 1528).
The painting shows the Madonna adoring the Child, Saint Joseph, Saint Nicholas of Tolentino, Saint Augustine the bishop, Saint Jerome and music-playing angels against a background of classical ruins.
The original destination of the picture (which might have initially had an arched shape) is not entirely clear. However, it clearly features the venerables favoured by the Augustinians, which, in addition to the dating, suggests that it came from the church of San Bartolomeo at the religious house of Santa Maria della Consolazione in Alba. The abbey was located outside the city, but after war left it in ruins, in 1556 the Hermits of Saint Augustine abandoned it and moved to this ecclesiastical complex.